High Sierra AHEC Ambassador Launch
In collaboration with Healthy Young NV, we at High Sierra AHEC (a public health based nonprofit in affiliation with the University of Nevada, Reno School of Medicine) believe in the same core values of understanding the importance of health education and access to healthcare to ensure the wellbeing of our community. Furthermore, we work to address the healthcare professional shortage our state continues to combat, by acting as a pipeline in cultivating college students who aspire to be in health-related careers. As Healthy Young NV and High Sierra AHEC Student Ambassadors lock arms, we are excited to see the strength of our missions strengthen and we are motivated to bring you awesome content!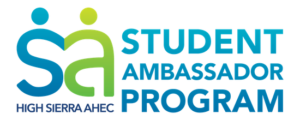 Our Student Ambassador program is comprised of a team of diligent and driven ambassadors who are working towards professional growth and development essential to careers in healthcare. From their engagement in community development, community outreach, and health education, our students become equipped with the skills to become successful healthcare professionals following graduating college. Through our collaboration with Healthy Young NV, our student ambassadors will share their health interests and passions in discussing and informing a diverse range of readers in our community and across the state on a variety of health topics that are pertinent to the different age levels of tweens, teens and young adults. We believe that peer to peer education is effective and allows youth to not only learn from one another, but also gain valuable insight on each other's stories and life experiences.
We hope that through this collaboration Nevada's youth find our content to be insightful and empowering. Everyone deserves the right to optimal health, and we hope that we can act as guide in doing so.
Dana Roscom, MSW, Program Manager
High Sierra AHEC