Antibiotic Resistance: Increasing Awareness and Reducing Risk
May 20, 2021

Posted by:

Healthy Young NV

Category:

Teen

Young Adult
Everyone, at some point or another, has gotten sick and been prescribed antibiotics by their doctor. Oftentimes, if your infection was indeed bacterial, the antibiotics go to work right away and you start feeling better before you've even finished taking all your antibiotics. Why is it, then, that doctors are so insistent that you finish your full course of antibiotics even if you're feeling better already? Other than making sure you really have cleared the infection and no longer need the medicine, completing your full course of antibiotics is one way to lower the risk of developing an antibiotic-resistant infection.
Contrary to popular opinion, antibiotic resistance does not mean that your body no longer responds to antibiotics. What actually happens is that the bacteria themselves become resistant to the antibiotic drug through natural selection. Using the example from above, look at it this way: if you're supposed to take an antibiotic for 10 days and you stop at day 6, there's a greater chance that you haven't killed all of the harmful bacteria in your body that the drug is targeting. The individual bacterial cells that happen to be less susceptible to the drug, by random mutation, still survive. So, while the weakest bacteria have died and been cleared, the more resistant bacteria survive and can reproduce and pass on resistant genes, or qualities. At this point, your infection will come back, but this time the bacteria will be antibiotic-resistant, and your body will not respond as effectively, if at all, to the same drug you were originally prescribed.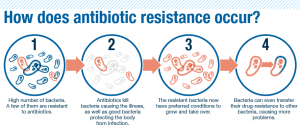 This is just one example of how antibiotic resistance can happen in a single individual. On a larger scale, antibiotic resistance is a severe issue, and there are increasing rates of these antibiotic resistant infections here in the U.S. and even globally. A major way in which antibiotic resistance is increasing is through the generous use of antibiotics in agriculture. With the increasing demand for animal protein, especially in developing countries, intensive farming practices are being used to increase yields, for example – making these farm animals grow quicker with a less amount of food. These practices include the use of antibiotics among animals intended for human consumption. Excessive use of antibiotics in animal populations allows antibiotic-resistant bacteria to grow, and these bacteria can be transmitted to the human population via contaminated products or direct contact. Additionally, antibiotic residues in animal waste enter waterways through run-off, which results in the mass spread of antibiotic-resistant bacteria in the environment.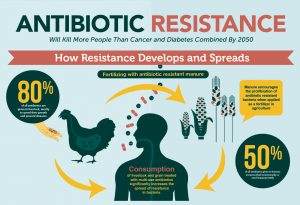 It is also noteworthy that improper disposal of human antibiotics by flushing or discarding pills outdoors or in the trash results in antibiotics entering the environment. These factors increase the likelihood of people coming in contact with antibiotic-resistant bacteria and developing severe infection. This is occurring with increasing frequency.
What can healthcare professionals do about this?
So how can doctors and other healthcare professionals limit the spread of antibiotic resistance? Physicians and other providers should be more conservative in the prescribing of antibiotics, ideally only prescribing them if a person's infection is confirmed to be bacterial. Additionally, and this is not what healthcare professionals can do, but still important – the unreasonable use of antibiotics in the agricultural setting needs to be lessened and farming practices need to be changed.
What can YOU do?
As far as how you can help to combat the spread of antibiotic resistance, make sure you always finish your full course of antibiotics. If you do need to dispose of antibiotics, always dispose of them correctly through community drug-collection programs. And in general, if you can avoid the use of antibiotics, do so. 
Antibiotic resistance is becoming an increasingly global and frightening problem. Scientists and medical experts are working to find innovative ways to treat these types of infections and limit the spread of antibiotic resistance. A crucial part of this effort is public awareness, and making sure individuals are aware of antibiotic resistance and the best practices to reduce risk.
This blog was written by Izzy, a Student Ambassador with High Sierra AHEC. Izzy is studying Microbiology and Immunology at the University of Nevada, Reno, with plans to attend medical school.
Resources
https://www.cdc.gov/drugresistance/about.html
https://doi.org/10.3390/molecules23040795
https://www.statnews.com/2018/12/21/pork-farming-fighting-antibiotic-resistance/
http://modmedmicro.nsms.ox.ac.uk/learn-more-about-antibiotic-resistance/
https://www.primalgroup.com/desperate-need-prevent-antimicrobial-resistance/