Daily Nutrition
November 15, 2021

Posted by:

Healthy Young NV

Category:

Prevention

Teen

Tween
With health initiatives on the rise in the United States, most people are aware of what types of foods to eat, what types of foods to avoid, and so on. To maintain a healthy diet, eating lots of protein, produce, whole grains, and dairy are musts. This seems pretty straight-forward, but healthy eating can become very confusing with a multitude of food alternatives, dietary advice, and advertisements constantly promoted in the media.
According to Harvard's School of Public Health, fruits and vegetables should take up half of your plate, proteins should take up a fourth and whole grains should also take up a fourth of the plate. The article referenced below suggests aiming for variety and color when picking the produce, so carrots, corn, beets, onion, bell peppers, and asparagus would be some examples. One important thing to note is the fact that potatoes are not counted as vegetables in this plate breakdown because of their adverse effect on blood sugar. Potatoes have a high amount of carbohydrates that the body quickly digests, which causes a spike in blood sugar and then a huge drop-off. This effect is what makes a person feel hungry again after finishing their meal, making it easy to overeat. Potatoes can lead to obesity, heart disease,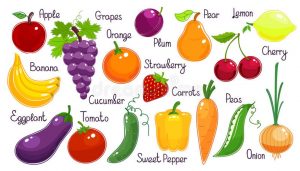 and diabetes in the long term, which is why they are to be eaten with moderation. As for incorporating more fruit and veggies into your diet, this can be done a number of ways. During the day, instead of reaching for a sugary snack that's processed, like candy or cookies, have fresh fruit on hand, like apples, bananas, oranges, or other seasonal produce. With vegetables, you can add these to dishes at home, like macaroni and cheese with small pieces of cauliflower, or if you're doing a Mexican night, grill up some onions and mixed peppers and make some fajitas!
Back to the healthy plate breakdown – whole grains, like whole wheat pasta, oats, quinoa, and brown rice should cover about a fourth of your plate. These are healthier alternatives to other grains, like white bread, white rice, or any more refined grains. Refined grains mean that in the process of making the certain food, part of the grain itself is stripped, which leads to a loss of nutrition and fiber.
The last part of the plate is protein, which includes beans, fish, meat, and nuts, which can all be mixed in with salads, rice, and made into other dishes. When eating meat, for the most part gravitate toward lean, white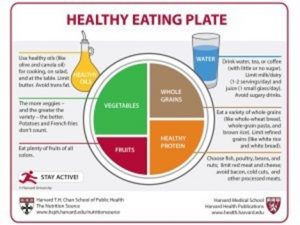 meats, like chicken or turkey. You can also eat fish that are high in fatty acids, such as salmon, anchovies, or sardines. Just keep in mind to eat red meat in moderation, which would include beef and pork, as well as deli meats, which are highly processed.
Additionally, skipping sugary drinks throughout the day is a good way to cut down on empty calories and added sugar. Drinking water throughout the day helps keep your body functioning smoothly and prevents issues that range from constipation to light-headedness. Specifically concerning daily nutrition, consuming a healthy amount of water each day helps your body absorb nutrients and digest your food. According to Healthline, men should drink about 125 ounces of water each day and women should drink about 91 ounces per day. If you don't love water as a beverage option, try buying some flavored, sparkling water as an option, or adding lemon or mint to your water to make it more tasty!
Making a perfectly proportional plate for each meal sometimes isn't realistic. Many of us are on the go all the time, rushing from school, to work, to family events, and so on. Following a nutrition plan isn't the easiest thing to do, especially since organic foods and unprocessed alternatives seem to be more expensive as a whole. Whatever the reason, there are still ways to maintain a nutritional diet without having to worry about so much meal prep and/or time being set aside. Here are some ways to integrate nutrition into your life.
Keep fruit handy If you know you won't eat fruit this way, you can always make or buy fresh fruit smoothies as well, and even incorporate spinach or kale in them to make them more nutritious.
Buy a variety of vegetables. Like stated before, eating vegetables of all colors helps to ensure you are eating vitamins throughout your day. Even though you may tend to eat the same vegetables all the time – broccoli, carrots, green beans for example – head to your local grocery store and see what else they have to offer. Soup season is officially here, and you can buy some autumn vegetables, like squash, zucchini, and asparagus, to create a yummy, nutrient-packed soup!
Eat some dairy as well. Eating yogurt and drinking low-fat or fat-free milk are good for your bones. Looking for milk alternatives that have added calcium is another great way to add calcium to your diet.
Avoid eating out when possible.If you don't prefer to cook, practice moderation when eating out. You can always split a meal with a friend or find one of their healthier menu items as an alternative to getting the burger every time.
Eating healthy doesn't mean counting calories and trying to cut out meals or certain food groups. Eating healthy means having a balanced diet of the staples, and occasionally treating yourself to the not-so-healthy staples. The way to start eating more nutritious is to take it one day at a time, one plate at a time.
This article was written by Maalí. She is studying biochemistry at UNR, and a student ambassador for High Sierra AHEC.
Resources
https://www.hsph.harvard.edu/nutritionsource/healthy-eating-plate/
https://www.healthline.com/health/food-nutrition/why-is-water-important#healthy-water-intake
https://www.hsph.harvard.edu/nutritionsource/2014/01/24/the-problem-with-potatoes/
https://www.mayoclinic.org/healthy-lifestyle/nutrition-and-healthy-eating/expert-answers/whole-wheat-bread/faq-20057999