An Unexpected Challenge: Maintaining Your Mental Health While Staying at Home
With the COVID19 pandemic causing nationwide lockdowns and social distancing guidelines, both the physical and mental health of the American public has become a hot topic. What can you do to protect your mental health? Find out below.
What is mental health?
Mental health includes our emotional, psychological, and social well-being. It affects how we think, feel, and act. It also helps determine how we handle stress, relate to others, and make choices. Mental health is important at every stage of life, from childhood and adolescence through adulthood.
How am I at risk?
Humans tend to be social creatures. Humans have evolved to work in groups over the course of history. When typically social people are forced into isolation, their mental health often deteriorates. This has been proven not only by experimentation, but by real life examples of people being forced into solitary confinement, being lost in the woods, etc.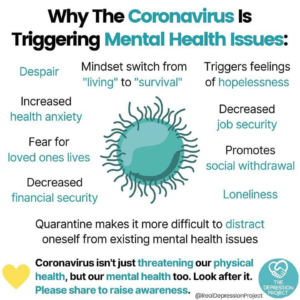 What are the consequences?
There are many consequences of having deteriorating mental health. Those forced into negative situations, such as isolation, have been shown to develop anxiety, depression, and many other disorders. Suicidal thoughts have been seen as well.
What can I do to prevent this?
The first thing you can do is focus on why you are staying at home. The goal of the "stay at home" order is to help others by preventing the spread of the virus, so if you are feeling down, remember that you are helping to save lives. The second thing that you can do is maintain a daily structure. Try to schedule your day just like any other, with designated times for things like showering, eating, and studying. A third thing that many are doing is starting a journal. People in isolation who keep a journal tend to cope with the situation better than those who don't. Another thing you can do, but might not want to, is tackle all of the tasks you have been putting off. If you aren't going to do it now, then when?
These aren't the only things you can do while in quarantine to maintain sanity. Exercising, crafting, reading, and playing board games with your family are all great things to do as well. Remember that this is a historic event, and it is the first time this has happened for everyone. Do not feel afraid to reach out for help, and if you have further questions feel free to look at these websites.
Resources
Crisis Support Services of Nevada
https://www.mentalhealth.gov/basics/what-is-mental-health
https://www.today.com/health/coronavirus-outbreak-how-avoid-going-stir-crazy-during-self-isolation-t176155
https://health.clevelandclinic.org/covid-19-understanding-quarantine-isolation-and-social-distancing-in-a-pandemic/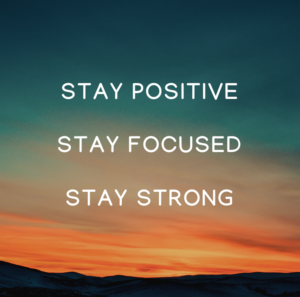 About the Author
Brandon is a member of High Sierra AHEC. He plans on attending the University of Arizona, studying biomedical engineering. He hopes to become a pediatric heart surgeon.