Romantic Relationships: The Good, The Bad, and The Ugly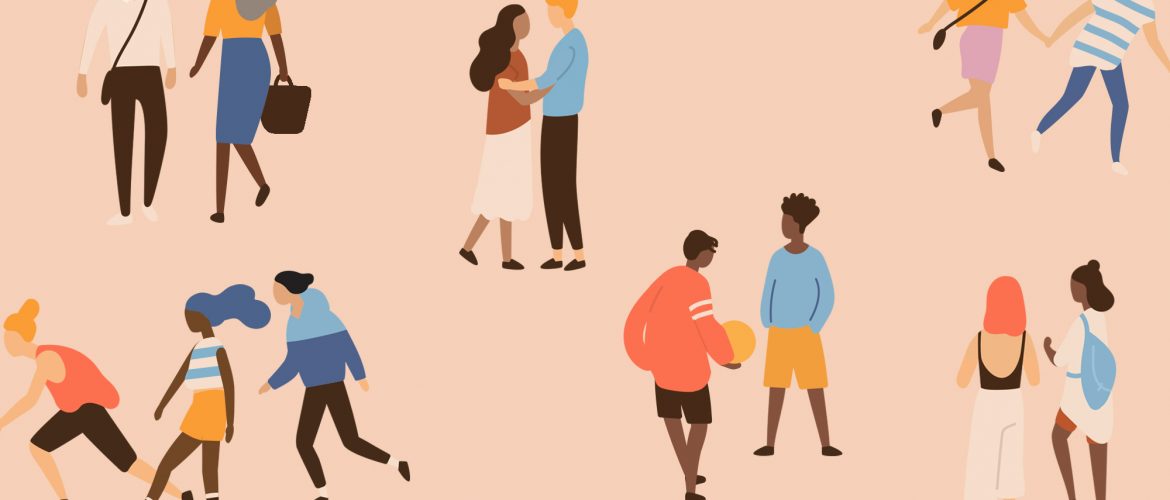 Intro:

As we enter different stages of our lives, we encounter new experiences with a variety of people. Some of these encounters may lead into romantic relationships, which can be a confusing experience to navigate around at any stage of the lifespan. It is important to understand the parts of a healthy relationship in order to bring out the best in yourself, as well as your partner. Sometimes relationships may get complicated, but with a suitable partner you will be able to get through anything and everything together. Similarly, it is important to recognize the signs of a toxic relationship to avoid negatively affecting your physical and mental well-being.
Elements of a Healthy Relationship:
We all have a general view of what a romantic relationship should consist of: happiness, respect, honesty – the list goes on. All of these factors contribute to an overarching theme of love. Therefore, it is important to consider the components of love and how these factors make a healthy relationship.
The components of love are intimacy, passion, and commitment, as outlined by psychologist Robert Sternberg. Intimacy refers to the idea of closeness and provides the feelings of warmth in a relationship. Passion involves the feelings that drive romance and physical attraction to one another. Commitment is the mutual agreement between two people to stay faithful to one another and grow together as a couple. When all three of these components are present, the environment becomes ideal for the relationship to flourish.
Such aspects lead to the perfect type of love, which is called consummate love. This is also considered, "the complete form of love". We all try to strive for this form of relationship, and anyone is able to achieve it. However, once it is achieved, many tend to forget the maintenance that comes with it. In order to maintain a healthy relationship, consider some of these important factors:
Open Communication

: Discuss each other's goals and ambitions. Find commonality and identify differences. Be direct when it comes to specific requests to prevent miscommunication, and actively listen to each other's comments and concerns.

Quality Time

: Set aside time to bond with your significant other. Find hobbies that you both enjoy doing or find a new hobby you both can try–you can learn more about each other.

Love Language

: This is learned with time, but try to find out your partner's and your own ideal love languages. These can be physical intimacy, acts of service, receiving gifts, words of affirmation, etc.

Reciprocity and Compromise

: Relationships aren't always perfect, and require the ability to give and take when appropriate. Collaborate with your partner throughout the relationship to ensure both you and your partners' needs are being met. Be able to compromise when it is comfortably acceptable for both parties, and be willing to reciprocate acts of love to ensure momentum/sustenance.
When things get complicated:
Oftentimes, people may experience ups and downs in their relationship. As mentioned before, relationships aren't always perfect and that is OK. The important thing to remember when these shortcomings happen is to focus on collaborating with your partner. Communication becomes key when the relationship gets complicated. Learn how to communicate effectively and be sure to make your needs/expectations clear to one another to find common ground.
Going back to the three components of love, people may find themselves in a "complicated relationship". Sternberg (1986) outlines the different types of relationships that may arise when only certain components of love are present in a relationship.
Source: Kuther (2016).
If you find yourself in a complicated relationship, it is important to identify your goals for your ideal relationship, communicate that to your partner, and vice versa. Relationships are truly dependent on what both parties agree on, and sometimes don't include the three components of love as it is not always the same process for everyone. Be sure to evaluate your relationship with your partner and ensure both of your perspectives of the love within the relationship are the same to avoid misunderstanding.
Signs of a Toxic Relationship:
Some may enter a relationship that started off good but has now turned into something toxic. These relationships can take a toll on a person's physical, mental, and even spiritual well-being. No one deserves to go through this, and sometimes it's hard to identify when you are blinded by love. Here are a couple of things to look out for when things start to get ugly in the relationship:
Too Much Dependence or Independence

: Your partner may demonstrate clinginess or a constant need to be around you 24/7 (dependence). Or they may want to do things without you/not include you (independence). Both of which can lead to negative feelings of oneself. Too much dependence can lead to feeling drained or suffocated. Whereas too much independence can lead to feelings of insecurity or loneliness.

Manipulation/Gaslighting

: These can present themselves in many ways, but regardless these are behaviors that should not be tolerated. Manipulation/gaslighting can involve your partner forcing things onto you that you wouldn't normally do/believe (ex: lying to you so don't see them as a bad person; victimizing themself to make you feel like a bad person; using your insecurities against you to make you do something they prefer; invalidating your concerns; etc.). Gaslighting is a form of manipulation where they convince you that certain circumstances happened when in reality they didn't (makes you feel like you're mentally unstable).

Selfish/Too Demanding

: You might feel like all you do is give in the relationship and get little back. Your partner focuses on their needs primarily and rarely thinks about you and your needs. They might also have high expectations and never take "no" for an answer. This may lead you to feel like a parent to your significant other, or general feelings of unfairness.

Belittles You

: Your partner might take on the mentality that they are better than you. This could be because they have narcissistic tendencies. When this happens, everything you do around them, for them, or for other people is undermined or overly-criticized. This can lead to feelings of inadequacy, and make you overthink that you are not good enough for them.

Physical Abuse

: Verbal and emotional abuse is one thing, but once your partner chooses to use their fists to express their emotions, that is when it becomes a physical problem. Whether it be direct physical contact (i.e, slapping, punching, etc.), or indirect contact (i.e., throwing an object, breaking your possessions, etc.), this can lead to feelings of frustration, fear, anger, and maybe even guilt.
There can be more ways a toxic relationship may present itself, and this is not a complete list. But it is important to recognize feelings of discomfort, concern, or uncertainty because these are emotions that are not normal to have in a healthy relationship. If you notice some of these signs in your relationship, please do not ignore them. Be sure to talk things out with trusted loved ones and make sure you are getting the help/support that you need to get out of the toxicity. Here are some other resources if you find yourself in a toxic relationship: https://healthyyoungnv.org/young-adult-category/relationship-violence-abuse/
Conclusion:
A healthy romantic relationship can provide anybody with the feelings of love, support, safety, and joy – especially when the individuals are accepting of one another and work together to achieve shared goals. Everybody is worthy of their ideal form of love, and it is important to not rush into things or settle for less than what you deserve. Keep these factors in mind and eventually you will find the right person to share the rest of your life with.
This blog post was written by Janine, an intern with Immunize Nevada.
Resources:
http://www.robertjsternberg.com/love
​​https://www.helpguide.org/articles/relationships-communication/relationship-help.htm
https://healthyyoungnv.org/young-adult-category/relationship-violence-abuse/
https://www.amherst.edu/campuslife/health-safety-wellness/counseling/self_care/healthy_relationships/10_tips_for_health_realtionships
https://www.youtube.com/watch?v=IabJJhmSecQ