Know Before You Go: Being STI Aware Before College
You've picked out your Twin XL bedding, said goodbye to your high school experience, packed up the van, and are moved-in for college. You're ready for this new chapter in your life, the life-long friends, the sports games, the career orientated classes, and the social events. The vision of your 8th grade health teacher putting a condom on a cucumber seems like a distant memory and you're excited to see what the future holds.
Although college can fulfill all those things, it can also expose you to sneaky STIs. It is key to be informed and smart in regards to your own sexual health. In college, especially, it is extremely important to remember that your sexual choices are entirely your own. It can be easy to feel pressured through various outlets such as social media, pop-culture, and your friends, but YOU and only YOU have the power over your own body. You also have the power to choose who you share this information with, and that varies as well. Some people want to tell the whole world on Twitter, tell their small group of friends, or keep it to themselves; it's entirely up to your discretion.
What is an STI?
An STI is a sexually transmitted infection. Although many platforms still use "STD", the modern term is "STI" meaning sexually transmitted infection, rather than disease. These terms are used interchangeably, but it is important to note that not all of these infections will turn into diseases.
How do I get it?
You can develop an STI through any form of sexual contact (vaginal, oral, anal, etc.)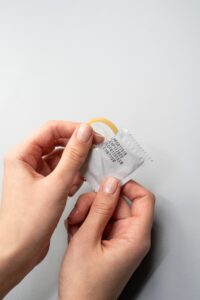 Ways to help prevent them:
Abstinence: An obvious way to prevent STI's is if you refrain from any form of sexual relations with people. It's important to know that not everyone will make this choice and their sexual choices are completely up to them as an individual. Everyone is different and as important as it is to make your own personal sexual choices, it is just as important to not judge others sexual choices if they so choose to share.
Condoms: Latex and non-latex condoms are a highly effective way to prevent STIs. The most common kind is the male condom, but there is also a female condom that can be used to prevent STIs. Many student health centers, like UNR, offer free condoms.
Limiting Number of Sexual Partners: The less number of sexual partners you have, the lower chance you may have to develop an STI. You can also limit STI exposure by being in a trusting relationship where you and your partner agree to solely have sexual relations with one another and no one else. If you are comfortable with your sexual partner, don't be afraid to ask their sexual history or the last time they've been tested. Being able to share this information with one-another is healthy and important.
Vaccinations: Vaccines, such as the HPV vaccine, can help prevent Human Papillomavirus, which is the most common STI. The CDC recommends 2 doses of the vaccine for 9-14 year olds and 3 doses for 15-26 year olds. You should also get your Hepatitis B shot!
Being Aware: When making sexual decisions, it is important to be aware. Participating in things like drinking alcohol reduce your awareness and make you more vulnerable to have unprotected sex and risk getting STIs.
Getting Tested
If you are sexually active, the CDC recommends getting tested at least once a year, if not more, depending on your number of partners. Many STIs, like chlamydia for example, may be asymptomatic and can lead to problems such as infertility down the line. Even if you don't have any symptoms, it is important to still get tested if you are sexually active so you can get treated and prevent the spread. It is beneficial for yourself and your future sexual partners to get tested. Many colleges have free STI testing at their student health centers. This is a great opportunity to get tested! UNR, for example, has free STI testing every Thursday morning between 8 and 10 a.m.
Don't be scared – college is an incredible experience, but also don't be naïve of these sneaky infections. So, as you embark on this new adventure, remember you oversee your own sexual choices and your sexual health. You have the power to protect yourself from STIs.
This blog was written by Marisa, an Immunize Nevada intern.
Resources:
https://www.plannedparenthood.org/learn/stds-hiv-safer-sex/get-tested
https://www.cdc.gov/std/prevention/lowdown/
https://www.cdc.gov/std/life-stages-populations/adolescents-youngadults.htm
https://med.unr.edu/student-health-center