How to Stay Connected
Before Covid-19, we were constantly in a social environment. Whether at school or work, we spent most of our day surrounded by certain people. Now, not only are we social distancing, but the majority of states have issued a "stay-at-home" order. It's a difficult adjustment that we unfortunately have no control over. However, we can still remain connected to our loved ones. Here are a few ideas:
1) Try to continue your normal routine. Did you have a night out on Friday with the girls? Did you have a family game night? Try to implement your day to day life. Just modify it by using virtual platforms like Zoom or FaceTime. Routine is crucial during this time so we don't feel lost.
2) Participate in community outreach events (virtually of course). Right now, virtual volunteering opportunities are increasing, and can be a joint effort. Grab some friends to do some quality volunteer work. A few examples of virtual volunteer opportunities are adopting a grandparent, making weekly phone calls to your local senior citizen center, became an online tutor in any subject, create masks for your local hospitals, provide food for your local homeless shelters, or teach kids how to read. Try using this spare time to really give back to your community.
3) Create a Google Docs with your friends and family. It sounds corny, but it can be very fun. An example of a Google Docs page could be a "Quarantine Diaries" where you document your day to day activities, so it feels like you're doing it together. It can also help boost productivity. If that's not your style, no worries. Try making a Google Docs with some movie or TV show recommendations, and leave reviews for each one after watching it.
4) Have a Netflix party. "Netflix Party" is an extension where multiple Netflix users can watch a show together from different locations. Grab the popcorn and start binging with your friends. Access Netflix Party here: https://www.netflixparty.com/
5) Do some fun workouts. Many yoga studios & gyms are offering free virtual lessons. Have some fun getting active & fit with your family and friends! It's also helpful to have a friend you do workouts with to keep each other accountable.
OrangeTheory is offering free workouts, with new videos posted each day here: https://www.youtube.com/watch?v=zTr3jeaofqA&list=PLeSKM0GTcnfE1c-yI8y-x5O2rdM3X9mZD
Yoga with Adriene offers free yoga sessions on YouTube as well! https://www.youtube.com/user/yogawithadriene
6) Lastly, if you're over technology, let's go back in time. Take some time to write some letters. Put that isolation energy into a creative greeting card to your friends or family. It can be heartfelt or silly, but either way, it's a great way to let the loved ones in your life feel acknowledged and important. Anyone would love the gesture. Let your imagination take over as you design the card and write out a thoughtful message.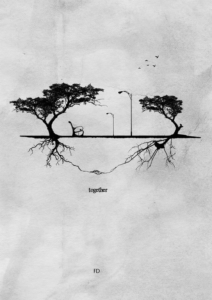 Social isolation is linked to higher risks for a variety of physical and mental conditions, such as heart disease, depression, and anxiety. However, creating productive daily activities or engaging in meaningful conversations can boost your mood, self-esteem, and overall health. While we are in physical isolation, it's important that we understand that does not mean emotional or social isolation. We can utilize the technology we have to try to feel as connected as we possibly can. You are not alone.
This blog was written by Harini, a Youth Advisory Council Member.