How to Make a Veggie Vegan Pizza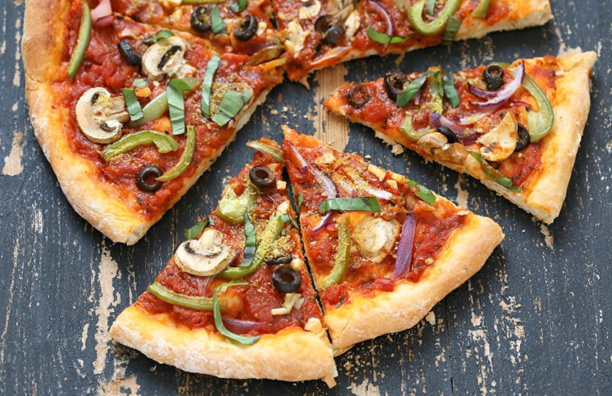 There are many diets that people follow around the world. The vegan diet is one of them. A vegan diet consists of plant-based dishes, avoiding all animal products, including meat, eggs, seafood, and diary. This diet also avoids animal byproducts such as honey, gelatin, and animal-derived vitamin D3, as well as cross contamination with these products. Many people follow a vegan diet for ethical, environmental, or health reasons.
As mentioned before, there are many health benefits of a vegan diet. Vegan diets have shown to prove very effective at helping people naturally reduce the number of calories, resulting in weight loss. In addition, vegan diets seem particularly effective at improving markers of blood sugar control which help lower the risk of developing type 2 diabetes. Research, thus far, also shows that vegan diets may improve heart health. It is important to note that while you may follow a vegan diet, you may have to take supplements from other sources, such as vitamin B12.
However, just because vegans don't eat dairy based cheese, does not mean they miss out on pizza! There are many different kinds of pizza that follows a vegan diet: deep dish, veggie, vegan pepperoni, vegan caprese, vegan BBQ Hawaiian pizza, and much more! Here's how to make a veggie vegan pizza.
Ingredients:
Crust
1 tsp active yeast
½ cup warm water
1 tbsp flour
1 ¼ cup flour
⅓ tsp salt
1 tsp olive oil
½ tsp dried oregano
¼ tsp garlic powder (optional)
Pizza toppings
Red pizza sauce of choice
Sliced bell peppers
Sliced red onion
Thinly sliced white mushrooms
Sliced zucchini
Sliced olives
Any other sliced veggies of choice
2 cloves of garlic
1 tsp olive oil
Fresh basil
Vegan parmesan cheese, or any desired cheese
Cooking Measurement Key:
Tsp: A teaspoon (tsp) is a unit of measurement usually used in cooking and baking. A teaspoon is equivalent to ⅓ tablespoon (tbsp).
Tbsp or tbs: A tablespoon is also a unit of measurement used in cooking and baking. A tablespoon is equivalent to 3 tsp.
Instructions:
Mix warm water, yeast, and 1 tbsp of flour. Let it sit for a few minutes.
Add 1 cup of flour, salt, garlic and olive oil. As you continue to mix, add another 3 tbsp of flour. Knead your dough until it is soft and sticky. If needed, you can add more flour until you achieve a desired consistency. Let the dough sit for about 15 minutes.
Add ½ tsp oil onto the dough and spread with your hands. Place dough onto a parchment lined baking sheet.
Spread the dough into a ~12 inch size oval, use flour if necessary. Spread the dough depending on how thick or thin you want the crust, while keeping the edges thicker than the center. Let the dough rise for a few minutes. Preheat your oven to 435 degrees Fahrenheit.
Spread desired pizza sauce onto the crust. Place toppings onto the crust evenly.
Mix chopped garlic with a tsp of olive oil, salt, and oregano. Sprinkle over the pizza.
If desired, sprinkle salt over the veggies and meltable vegan cheese.
Bake the pizza for about 18 minutes or until golden brown around the edges.
Once out of the oven, sprinkle vegan parmesan cheese, chopped fresh basil and pepper flakes.
Slice and enjoy!
This blog post was written for Healthy Young NV by a High Sierra AHEC Student Ambassador.
Works Cited
https://www.everydayhealth.com/diet-nutrition/diet/vegan-diet-guide-benefits-risks-weight-loss-effect-food-list/
https://www.veganricha.com/easy-veggie-vegan-pizza/
https://www.veganfoodandliving.com/vegan-recipes/vegan-pizza-bread/ultimate-vegan-pizza-party-recipe-round-up/
https://www.nhs.uk/live-well/eat-well/how-to-eat-a-balanced-diet/the-vegan-diet/
https://www.healthline.com/nutrition/vegan-diet-guide#about-the-vegan-diet