Healthy & Practical Options for Living in a Dorm
We all know how important it is to eat healthy, but trying to eat a fresh diet in a dorm, even with a little fridge, can prove challenging. Unfortunately, processed foods and easily accessible snacks don't have the same nutritional value, so it's important to keep searching for high quality options. Until you have an apartment or a place of your own, here are a few options to keep you on the right track.
Veggies that Keep
The importance of vitamins and minerals in food is vital for a healthy lifestyle. Carrots, cabbage, potatoes, onions, and other winter veggies keep super well and are easy to incorporate into your diet. Chopped cabbage can be added to ramen for some nutritional value, or microwave baked potatoes can increase your vitamin C intake. Not to mention these vegetables are a cheap addition to your monthly groceries.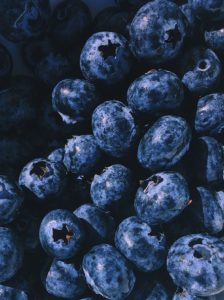 Fruity Solutions
One of my favorite dorm options is frozen berries! They don't go bad, take up little room, and are significantly cheaper than fresh berries. You can add frozen berries to cereal, yogurt, or have them on their own as dessert. Apples and oranges also keep for a very long time and don't need to be refrigerated. Microwaved apples with coconut oil or vegan butter and a sprinkle of salt make a delicious and satisfying dessert for late night studying. Grapefruits with a sprinkle of sugar or honey also provide an excellent breakfast option.
Bread and other Grains
Purchasing a hearty bread can add substance to your diet and help you feel fuller. You can even store an extra loaf of bread in the freezer until you're ready to use it. Investing in a rice cooker is also a really good idea! You can add canned pineapple or tomatoes, cabbage, onions, or a simple salsa to protein rich quinoa or nutrient heavy brown rice for a full meal. Corn chips are a better alternative to potato chips.
Dairy or Nah
Cheese sticks are one of the best quick snacks and keep for ages. Sliced cheese is also handy to have for rice, quinoa, corn chips, or potatoes! Yogurt is also an easy snack with lots of protein
and a natural probiotic, which makes it good for the gut! Switching from dairy milk to almond milk is not only better for your body and the planet, but it keeps much longer and is comparable in price. Unflavored almond milk can be used for creamy sauces or mac n' cheese cups, where unsweetened vanilla adds an extra yumminess to your morning bowl of cereal. Don't forget the coffee creamer if you're a coffee drinker! It can also be added to chai tea for homemade chai tea lattes.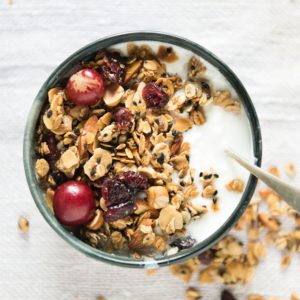 Flavor Staples You Can't Forget
Low fat ranch and sour cream add depth to any dorm food and are must haves for those salads and baked potatoes. Salt and pepper are no-brainers, but people don't think about other spices like garlic salt, paprika, and whatever else you like! Peanut butter, cookie butter, and Nutella are fun spreads when used in moderation for dipping apples or adding to sandwiches. Salsa, pickles, and hot peppers add a lot of flavor without a lot of calories, but keep in mind they are high in sodium.
Let's Talk Drinks
Sugary drinks may appear to be a necessary evil, but there are many other healthy options. Naturally flavored soda waters without sweetener can curb a soda craving. Yerba Mate is a natural energy drink option and coconut water is a flavorful alternative to fruit juices. Additionally, Naked smoothies include the fibers and complete nutrients that juice lack and kombucha contains probiotics, like those found in yogurt. Unsweetened or lightly sweetened teas contain caffeine and significantly less sugar and chemicals; where coffee and matcha paired with dairy alternatives and all natural or decreased sweeteners are also good sources of energy. Finally, water is ​always ​ the best option, so make sure you're filling that Hydro before turning to anything else.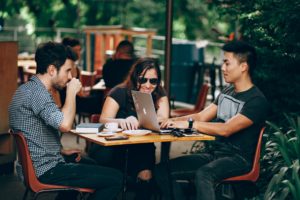 Although it may seem impossible to tackle a healthy diet, a good first step is starting a grocery list with a high volume of fruits, veggies, and raw foods. Find what you like by trying new things and don't be afraid of some trial and error. Finally, always be proud of yourself for making an effort and taking steps toward a healthier life!
This post was written by Ali, a student intern with Immunize Nevada.
Resources:
https://www.nhs.uk/live-well/eat-well/eight-tips-for-healthy-eating/
https://www.self.com/story/20-ways-to-eat-healthier
https://www.wisebread.com/10-fruits-and-veggies-that-stay-fresh-a-month-or-longer
https://www.healthline.com/nutrition/whole-grain-foods