Healthy Habits
Your teen years lend themselves to being among your life's healthiest, and the harmful effects that some poor health habits you currently have may not be obvious now. However, these bad habits can most definitely affect your well-being later down the road. The teen years are an important time for your growth and development. The good habits you create now may pave the way for a healthier and happier adulthood.
As a teen, you may have heard how important it is to take care of your teeth, get enough sleep, and eat healthy; this is all for good reason. Making healthy choices like these set the stage for good habits later on. Taking the time to understand where you are physically, mentally, and emotionally will help set healthy goals that you want to meet personally and that path can be different for everyone! Being able to understand your four individual needs is just as important as it is to listen to what your body and mind wants.
There are 4 major areas of health to consider as a teen; these will help you to start thinking critically about how you can develop physical, mental, behavioral, and emotional habits.
Physical: Recognize the needs of your body to maintain a good physical state.
Stay active and exercise daily. The older you get, the more important it is to incorporate exercise into your daily routine – 60 minutes of exercise daily is recommended for teens. Maintaining a healthy weight will also decrease the likelihood of obesity, heart disease, and chronic illnesses in adulthood.
Establish a good sleep routine. Studies have shown that teens need 9 – 9 ½ hours of sleep for daily functional activities. Most teens on average get about 7 – 7 ½ hours of sleep. A good sleep routine will allow you to stay alert and engaged throughout the day.
Get immunized. Going to the doctor for regular visits are important during your teen years to ensure you have received all the recommended vaccines. This includes getting the flu shot every year!
Eat your daily serving of fruits and vegetables. Eating the correct daily serving of fruits and vegetables will allow your body to get all the nutrients and vitamins it needs to perform daily activities. It is also important for growth and development.
Brush and floss your teeth. Flossing and brushing your teeth twice a day is a good habit to develop good oral hygiene and prevent gum diseases and infections, like gingivitis.

Mental: Develop a healthy mindset.
Find a sense of balance. Take care of your health mentally by learning how to balance your academics, social, and work life. Developing this habit now will ease you into adulthood, when your life gets even busier.
Manage stress levels. Understanding your levels of stress is also important to your health. Understanding what stresses you out and how to best cope with these stressful situations is also important. Many people find that they can release stress through activities like music, exercising, or talking about their problems.

Emotional: Understand your feelings and emotions.
Understand and recognize the signs of mental health. Oftentimes the signs that point to poor mental health are hard to notice. It is important to know what to look for so that you can be quick to help yourself or your peers. Many common signs include: sadness, pulling away from social and group settings, having a hard time processing feelings and emotions, alcohol/drug abuse, mood swings, and over the top anger, anxiety, or guilt.
Evaluate your own feelings. Understanding your emotions is one of the few steps to keep yourself in check with your own happiness and well being.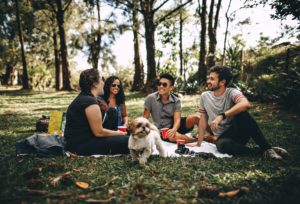 Behavioral: Recognize positive and negative behaviors in your daily activities.
Abstinence and safe sex. If you are sexually active, it is important to understand the use of contraceptives, birth control, and the different types of sexually transmitted infections (STI). Understanding abstinence and safe sex is a good habit to develop as a teen, so that you are aware of your options and prepared in advance to do everything you can to prevent sexually transmitted infections and unwanted pregnancy.
Avoid substance abuse. Alcohol and drugs can cause long-term, harmful effects to your health, and avoiding substance abuse now will prevent health problems later on. Drug and alcohol use is one of the habits that can lead to addiction, so learning about the harmful effects of these behaviors is important now. This will help you to make better decisions when you are old enough to drink alcohol.
Surround yourself with a good friend group and develop strong relationships. For better or worse, who your spend time with affects how you behave. With this in mind, it's important to choose your friends wisely!

One of the most important habits to develop is the ability to ask for help when you need it. Understanding where you are physically, mentally, and emotionally is important and being able to openly communicate that with doctors and counselors will ensure that you get the help you need. There are many habits that you develop as a teen that will follow you into your adult years, and developing good habits now will benefit you for a lifetime.

This blog was written for Healthy Young NV by Linda, a High Sierra AHEC Student Ambassador. Linda is a senior at the University of Nevada Reno, studying Biological Sciences. She is passionate about health care policies and creating change in the healthcare system for low-income families. Linda plans to graduate Fall 2019 and continue graduate school to pursue a master's degree in Physician Assistant Studies.