Heading Outdoors to Stay Healthy
April 2, 2021

Posted by:

Healthy Young NV

Category:

Tween
Getting outside has always been an important part of a healthy lifestyle. Now, in the age of COVID-19, outdoor activities may be more crucial to our well-being than ever before. With new limitations on where and how we spend our time, heading outdoors can be a great way to stay active and keep up our social connections.
What Kinds of Exercise Are Important?
With school being online, it's important to find ways to make up for the exercise you would normally get during P.E. or after-school sports. Consider spending more of your free time getting active outdoors! Heading outside is a great way to have fun and get active, which are two important aspects of our overall health. Whether you're intentionally exercising by going for a walk or jog, or you're hiking, riding your bike, or playing outdoor sports for fun, getting active outdoors is a great way to engage in aerobic exercise. Aerobic exercise is more physically strenuous than other types of exercise, as it increases your breathing and heart rate. This is very important to our heart health, and experts recommend getting at least 150 minutes of moderate or 75 minutes of vigorous aerobic activity per week. Try to spend some time exercising outside every day, especially if you used to rely on school activities or an indoor gym for your exercise. Challenging yourself to new physical skills or improving your endurance are great ways to improve your health and find personal fulfillment in the process.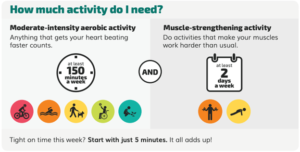 Source: Centers for Disease Control
Mental Health and Exercise
Outdoor activities can also be relaxing and fun. Whether you're practicing a favorite sport, hiking with family, or engaging in something fun like skateboarding, rollerblading, or biking, experiencing joy is very important to your overall health. Scientific studies have found that happiness can improve heart health, strengthen immunity, reduce the negative effects of stress, and even lengthen our lives. Additionally, protecting your mental health is critically important, especially during a time when the COVID-19 pandemic has many people feeling stressed out, anxious, and lonely. Turning to the outdoors as a positive outlet can be an important part of leading a physically and mentally healthy lifestyle during this challenging time. Breathing fresh air, getting sunlight exposure, and seeing the natural beauty of the world all contributes to our physical and mental wellness, and studies have found a correlation between overall health and time spent in nature. If you are looking for new ways to stay healthy, have fun, and reduce stress, or you simply want to change things up, try getting outdoors more!
Staying Connected
While COVID-19 has significantly limited our ability to see friends and family and get much needed social exposure, heading outdoors is an excellent way to spend time with others while also staying safe. Make plans with friends and family to walk, hike, bike, or anything else you can do while social distancing. Continue to wear a mask and keep your distance from anyone outside of your immediate household. While you may not be able to get close or come in contact like you used to, you can still have fun and connect with your loved ones. Maintaining social connections, having fun with your friends and family, and knowing you have a social support system is incredibly important to your overall health and wellbeing.
Being in the middle of a pandemic poses unique challenges to how we stay physically, mentally, and socially well, but there are all kinds of ways to overcome those challenges. Spending time outdoors is a great way to get exercise, reduce stress, have fun, and maintain your social connections with friends and family.
This blog was written by Izzy, a Student Ambassador with High Sierra AHEC. Izzy is a junior studying Microbiology and Immunology at the University of Nevada, Reno, with plans to attend medical school.
Resources
How Much Exercise do you Really Need?
Spending Time Outside is Good For You
6 Ways Happiness is Good for Your Health