Foodborne Parasites: Unwanted Dinner Guests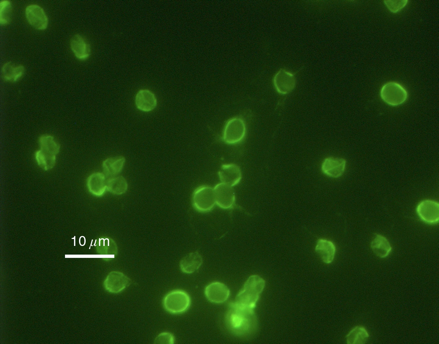 When you are biting into a fresh, chewy piece of seafood, or a crisp leaf of romaine lettuce, the last thing you want to worry about is your meal making you sick. Think about food poisoning for a second. What do you think causes food poisoning? Bacteria? Viruses? While bacteria and viruses are very serious pathogens, one underappreciated threat that has become increasingly common in the past few decades is parasites. You might not like parasites at first, but they really start to grow on you (pun intended)! This article will focus on several important parasites you might encounter and how to stay safe during this time of social distancing.
Parasites in Produce
Unlike bacterial infections, parasites can be harder to detect and treat, and may take a long time to produce disease. Certain parasitic infections can lead to chronic conditions like cancer and heart disease – two very significant causes of death in the United States. In recent years, certain parasites that have normally been transmitted through vectors like mosquitos have ended up in our food supply. One means of transmission for certain parasites is through unpasteurized juices. Pasteurization is a process by which foodstuffs are heated to a certain temperature to kill disease causing microbes, so when things are unpasteurized, like juices, this may promote disease growth.
One disease that affects produce is Chagas disease. Chagas disease is a parasitic infection caused by Trypanosoma cruzi that is normally spread through contact with Kissing Bugs. However, cases of the bug ending up in agriculture have resulted in an increase in foodborne transmissions. To avoid Chagas disease, which can cause severe complications if untreated, it is important to avoid consuming unpasteurized juices and unwashed vegetables, especially if travelling to parts of Latin America where the "bug" is common. Also of note is that some unusual viral infections like Nipah virus, for which there are no vaccines or treatment and high mortality, can be contracted through unpasteurized juices such as date palm juice. Though the risk of contracting these in the United States are low, the Kissing Bug has been reported in Nevada, and according to CDC estimates, 300,000 people in the United States are currently infected with Chagas disease.
Parasites in Seafood and Meat
If you are a fan of sushi, you might not like this next part of the article. To make sure you aren't bringing an uninvited guest for dinner when you order sushi, it is a good idea to ensure that your fish has been frozen at -4°C (about 25°F) for ten days, which kills the larva of Anisakis, a type of roundworm that lives in fish. This information can be found by contacting the sushi restaurant beforehand to ensure that they are doing this, as such are recommendations by the FDA. Anisakis infections have been implicated as a potential risk of gastrointestinal cancer, and can also result in allergic reactions in the future.
On the subject of meats, some of the most common parasitic infections in the United States are caused by tapeworms that live in livestock. In particular, the biggest emerging global parasitic infection is caused by Taenia solium, and the consumption of undercooked pork, which can lead to seizures, because this parasite attacks the brain. The leading cause of death due to foodborne illness in the United States is caused by a parasite known as Toxoplasma gondii, which famously infects the brains of mice to make them attracted to cat urine, but in humans, can result in permanent eye damage, miscarriages, behavior changes, and death.
To guard yourself against tapeworms and other parasitic infections caused by meats, it is recommended to cook whole cuts of meat to an internal temperature of 145°F, which corresponds to medium, ground meats to 160°F, and poultry to 165°F.
Conclusions
This article only scratches the surface of the wide range of parasites that can be transmitted through the foodborne route, but many more exist beyond the scope of this article, and there are other numerous ways to contract parasitic infections. Parasites are an under investigated and underreported threat, but they, nonetheless, are very menacing to human health. For more information on parasitic infections as a whole, the CDC has more detailed information on how to keep yourself safe and the epidemiology of several different parasitic infections.
This blog was written by Omar, a volunteer with Immunize Nevada.
Suggested Resources
https://www.cdc.gov/parasites/about.html
https://www.cdc.gov/parasites/npi/index.html
https://www.cdc.gov/media/releases/2014/p0508-npi.html
https://www.cbsnews.com/news/parasites-causing-infections-in-the-us-cdc-says/
https://www.cdc.gov/parasites/chagas/
https://www.cdc.gov/parasites/toxoplasmosis/