First Aid You Should Know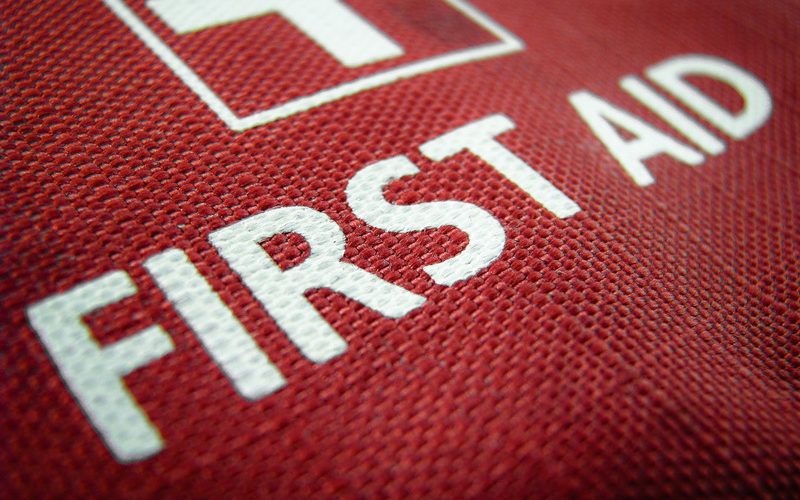 Introduction
In a world filled with danger and opportunity for injury it is important to know basic first aid. This blog will go over a few health emergencies you may come across and how to deal with them. Just a quick disclaimer before we begin: never do anything you aren't trained to do or willing to be held liable for. While Good Samaritan laws protect you in many places, it is recommended you complete more training, like an American Heart Association CPR or an EMT class, if you have greater interest in emergency medicine. With that being said, let's get started!
Nosebleeds
Let's start out with something Nevadans come across frequently with the dry desert air. These two steps will help you stop a nosebleed:
Have the person firmly pinch the area right below the bridge of the nose.
Have the person tilt their head down and lean slightly forward and hold for 5-15 minutes.

That's about it! If heavy bleeding doesn't stop within 15 minutes of constant pressure, it's advised to seek medical attention.

Heavy Bleeding
Heavy bleeding can occur very easily in any trauma scenario, from car crashes to working in the kitchen. Use these steps below to prevent or stop heavy bleeding:
Protect yourself! Wear gloves and any other necessary personal protective equipment.
Find some type of clean absorbent material (preferably sterile gauze).
Apply heavy pressure. This may be uncomfortable, but it's important to push the gauze firmly against the wound to help stop the bleeding.
Continue to hold the pressure as you transport the person to medical care.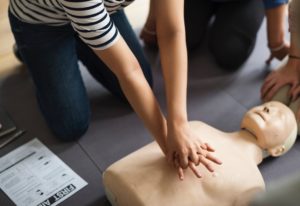 CPR
Cardiopulmonary resuscitation (CPR for short) is a way of prolonging life when a person's heart stops. To continue living, humans need 3 things, or the ABC's.
A stands for Airway. If you come across someone who is unresponsive, you need to open the airway. You can do this by tilting their head back, as seen below.
B stands for Breathing. People need to breathe to stay alive. This is when you listen and feel for breath coming from their mouth. If there is no breath it's time to move to C.
C stands for Circulation. Check for a pulse on their wrist or neck. If the blood isn't pumping you need to act fast. CPR can be intimidating, but performing hands-only CPR can still save a life. Follow the poster on the right and you're good to go! It's recommended that everyone takes a hands-on CPR class to help them prepare for situations like this.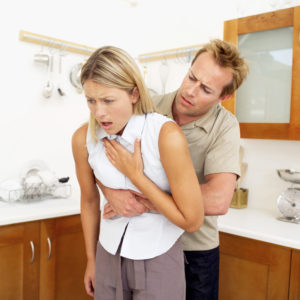 Heimlich maneuver
Choking can occur in an instant and take someone's life just as quickly.Your fast action can be the difference between life and death. My father has personally saved 3 peoples' lives (mine included) using the Heimlich Maneuver. He even used it on a customer while at a business dinner! Visit this link https://henryheimlich.com/how-to-perform-the-heimlich-maneuver/ to learn the different ways to perform the Heimlich maneuver. As you are performing the maneuver, have someone else call 911 so the person chocking can get medical attention right away.
Hypothermia
Hypothermia is when the body loses heat faster than it can produce it, causing a dangerously low body temperature (Mayo Clinic). This can quickly lead to death if help is not received in a timely manner. Treatment for hypothermia is as simple as it gets. You need to get the person out of the elements and get them warming up. Bring them inside and give them a blanket. If their clothes are wet, have them remove them and replace them with dry ones. A cup of warm water can also be helpful in raising their body temperature back to normal levels. Do not shock them by putting them in a tub of hot water; it is safer to bring their body temperature up gradually using blankets and body warmth. We come across people in the beginning stages of hypothermia in ski patrol frequently. Poor clothing and extreme elements can bring on hypothermia at a high rate of speed and effective treatment is essential. Remember to seek medical attention as soon as possible.
Shock
Shock occurs when a person's brain isn't receiving the blood it needs to function. This can cause someone to faint or pass out. If someone is experiencing shock during a medical emergency you need to begin treatment quickly. Have the person lie down of the floor and elevate their feet slightly. You can also cover them with a blanket. Make sure you monitor their ABC's (we talked about them above in the CPR section), and as always seek medical attention as soon as possible.
Signs of a stroke
A stroke occurs when someone experiences either bleeding in their brain or loses blood flow to a certain part of their brain. Strokes kill brain tissue and the longer it goes on the worse the outcome. Doctors treating stroke have significantly better results when the stroke is spotted sooner. If you follow the steps below you can help save someone's quality of life and get them the treatment they need.
Conclusion
If you have the opportunity to help someone, I urge you to take it! I hope this has been informative, and when the opportunity arises you can spring into action and help save our most precious resource: LIFE!
This blog post was written for Healthy Young NV by Corban, a High Sierra AHEC Student Ambassador. He is currently in his first year at University of Nevada, Reno studying biology and preparing for medical school. Corban is an EMT ski patroller in the local area, loves the outdoors, and has a passion for emergency medicine.
Resources
www.heart.org
www.cpr-test.org
https://www.mayoclinic.org/diseases-conditions/hypothermia/symptoms-causes/syc-20352682
https://henryheimlich.com/how-to-perform-the-heimlich-maneuver/