Emergency Preparedness
Fire, earthquakes, and other natural disasters seem to be multiplying every day. These events range from massive wildfires in California to hurricanes in Texas. Unexpected emergencies can strike at any time. How can you keep yourself, family, and friends safe in the event of an emergency? Be prepared. The American Red Cross has a motto for emergency preparedness. They say it is as easy as 1-2-3. The first step is to get yourself a 72 hour kit. The second step is to make a plan that can effectively get you to safety in the event of an emergency. The third step is to be informed – this step involves some research. You need to be aware of what type of disasters are most likely to occur in your area and how to stay safe during those events.
Step 1: 72 Hour Supply Kit
Building a 72 hour kit is relatively easy. The 72 hour kit should contain items that can help you survive for three days. One of the most important things you need to include in your kit is water. Plan to have one gallon of water per person per day. You should also include non-perishable food that is easily prepared in very little time. The rest of the items suggested are not necessary for survival and should be adjusted for your personal situation. You should pick and choose what items fit your needs the best. Your kit should contain items like a flashlight, battery powered radio, first aid kit, a seven day supply of any medications you need, multi-purpose tool, personal hygiene items, copies of personal documents like proof of address, birth certificates, insurance etc., cell phone chargers, emergency contact information, extra cash, an emergency blanket, a map of your area, and anything else you think will aid you in an emergency. Don't forget that your four-legged friends will also need food and water.
Making an emergency preparedness plan can be as simple or complex as you would like. It's important to plan what you will take with you, where you will go, and how you'll get there. Your 72 hour kit should contain the majority of items you need to make it through this disaster. In addition, go through your home and make a list of important items to take if you need to evacuate quickly, including family photos, important documents, and other items that you deem necessary. Put this list in your 72 hour kit. The place you will go depends on what type of disaster is threatening your area. The route to escape a fire is more than likely different than the route you will take to avoid a flood. Make plans and preparations for any foreseeable event in your area. Communicate your plans to friends and family and talk about how you will communicate before, during, and after a disaster. Transportation will become very important, especially when time is running out. You may not have time to stop and fill up your vehicle with fuel (if fuel is even available). Make it a habit to fill up your vehicle whenever you have half a tank of gas. If your tank is always half (or more) full, you will always have enough fuel to take you miles away from a disaster area.
Step 3: Be Informed
Knowing what type of disaster to prepare for will change how you prepare. We don't have to worry about hurricanes in a state like Nevada, but we do have to worry about seismic events (earthquakes) and wildfires. Use the Red Cross website to see what disasters are common in your area and adjust your emergency preparedness plan accordingly.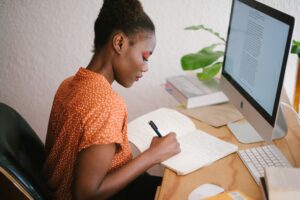 Be prepared. Now that you know about emergency preparedness you can take a little time to set yourself up for success in a disaster. Taking a few minutes to prepare for emergency situations can be the difference between survival and death. Your 72 hour kit can be made small enough to fit under your dorm bed or in your car and an emergency preparedness plan only takes a little time and some memory. It is as easy as 1-2-3 – make a kit, create a plan, and stay informed. Follow these steps and you can be prepared when a disaster strikes your area.
About the Author
Corban is a lead student ambassador for High Sierra AHEC and is studying Biology at The University of Nevada, Reno. He is an EMT and avid outdoorsman who hopes to attend medical school in the very near future.
Resources
https://www.redcross.org/get-help/how-to-prepare-for-emergencies.html
https://www.ready.gov/