Dental Hygiene & Oral Health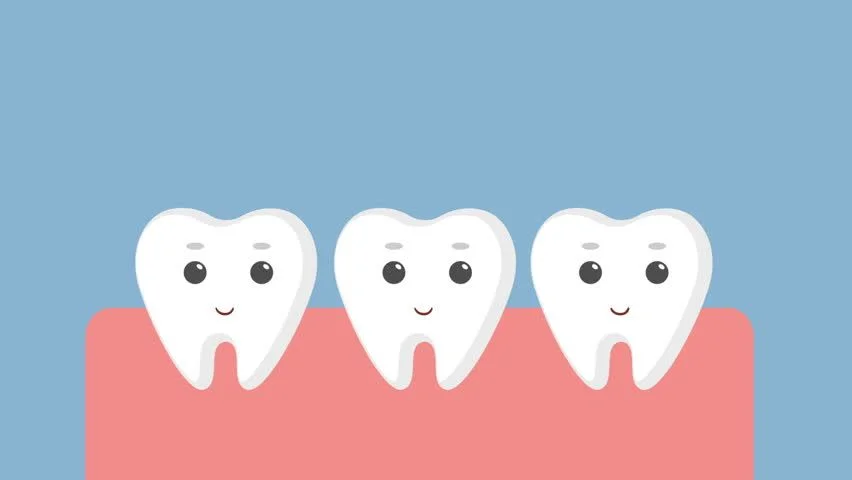 Dental hygiene refers to the steps you are taking to keep your teeth healthy or work towards making your teeth healthier. Dental hygiene is an important part of overall oral health and is important for keeping your mouth clean. The National Institute of Dental and Craniofacial Research (NIDCR) notes that "good oral health helps you enjoy life. It lets you: speak clearly; taste, chew, and swallow delicious and nutritious foods; and show your feelings through facial expressions such as smiling." These are some of the reasons why it is so important to keep an eye on the health of your mouth, gums, teeth, and other related parts of your body. This blog post will walk you through what your teeth consist of and how they function, then give you some guidelines for making sure you are on track with taking care of your teeth!
Tooth Anatomy and Physiology
The Encyclopedia Britannica defines a tooth as "any of the hard, resistant structures occurring on the jaws and in or around the mouth and pharynx area of vertebrates." Your pharynx is a passageway that runs from behind your nose and down your throat and is often filled with air. A vertebrate is a mammal that has a spinal column.
The exposed region of your tooth – the part you can see – is called the crown. There are multiple layers that make up the crown of a tooth. The outermost layer is called the enamel and it is one of the hardest parts of your body! Below that, you have dentin, which is similar to your bones. This part of your tooth is alive and needs nutrients, which come from the pulp. The pulp has a nerve and a bunch of little blood vessels. This pulp extends deeper down into a region of your tooth that is not exposed; this region is known as the roots of the tooth. The roots of your teeth also have dentin, but instead of being covered by enamel, they are covered by a layer known as cementum. Cementum is also similar to bone, but it is not quite as hard as dentin. The cementum layer helps secure how attached your tooth is in your jaw by connecting them to your gums.
When it comes to how your teeth work, their main job is to start breaking up food for you to be able to receive your proper nutrition. The Encyclopedia Britannica says that "[teeth] are used for catching and masticating [chewing] food, for defense, and for other specialized purposes." Since your teeth and gums are exposed to the environment, food, and bacteria, they can develop diseases. One common disease is when your teeth decay, which happens when bacteria collect on teeth and start to digest sugars or other food particles. These bacteria turn these sugars or starches into acids. Acids damage the outer layers of your teeth like your enamel and dentin. This can eventually result in pain if not properly taken care of, and your teeth can become less good at breaking up the food you eat.
Steps for Good Dental Hygiene
Now that you know all about what makes up your teeth and how they work, we will talk about some things you can do to protect your teeth by keeping up with good dental hygiene practices. This is one of the most important things for ensuring good oral health – both now and for the future!.
Brush your teeth two times a day–once in the morning and once at night. If possible, you should try to use toothpaste that has fluoride in it. Brush all the surfaces of each of your teeth and use circular motions. Don't forget to brush your tongue!
Buy a toothpaste that has fluoride in it. Fluoride helps prevent cavities and keep your teeth in good shape.
Floss once a day. Use enough floss so that you can wrap it around your fingers and get a good grip. Make sure you are sliding the floss down the sides of both teeth for each gap. String dental floss is more effective than floss picks or a Waterpik, but using any of these alternatives is better than not flossing at all!
See your dentist and/or dental hygienist regularly – recommended every 6 months. Make sure to stay on top of appointments.
If you want to help younger children develop good oral hygiene habits in an interactive way, the Centers for Disease Control (CDC) has a fun interactive activity book! This is a free resource that you can print out and give to children
Dentistry as a Profession
Hopefully, you now have a good understanding of what your teeth are made up of, how they work, and how to keep them healthy! If you are interested in working in dentistry in the future, below is a quick guide from the Health Care Careers in Nevada (2020-2021) book:
Dental Assistant: average salary of $38,240, requires a certificate
Dental Hygienist: average salary of $81,270, requires a Bachelor's degree
Dental Laboratory Technician: average salary of $42,080, no educational programs offered in Nevada
Dentist: average salary of $210,710, requires a doctorate degree (MD)
Oral health is linked to the rest of your body's health, so it is important to continue good oral hygiene every day.
References:
Health Care Careers in Nevada (2020-2021, print)
This blog post was written for Healthy Young NV by Lauren Brilliant, a High Sierra AHEC Student Ambassador. Lauren is currently studying Microbiology & Immunology at the University of Nevada, Reno; she will also graduate with a minor in Philosophy.