The promotion of self-love within yourself and others is very important, especially in the rising climate of social media. As young teens, it is easy to constantly see social media influencers who are in the gym or may have had "work" done on their bodies to enhance or remove bodily features. These enhancements or removals portray what is considered to be an ideal body image. Many of these popular body images are liked by many and viewed as the goal beauty standard. Though it may be scary to constantly see body types such as these on your social media feed, it is important to remember that all body types are beautiful. Body positivity stems from self-confidence, self-worth, and self-love.
Self-Confidence
A great way to build self-confidence is to practice body neutrality. Body neutrality is accepting your body as it is. A great way to practice this is to wear clothes that feel good on your body. By listening to what your body needs physically can be important to allow yourself to have daily rest and not over-exert yourself. Eat the foods you want but remember to balance nourishments your body needs while also enjoying desserts or cravings.
When you promote positivity in your life it can make a huge change. A great way to start off your day with a boost of positivity is to write down daily affirmations about yourself each morning. Writing or speaking daily affirmations can foster positive thinking and self-empowerment. These are not just quick fixes to building self-confidence about your body, but by completing these practices daily, it can grow into immense prosperity of self-worth and self-love.
Ways to Increase Self-Confidence:
Keep a list of what you have accomplished
Remind yourself of things you're good at
Find a hobby that you're passionate about
Surround yourself with positive people
Be kind to yourself
Face your fears
Set achievable goals

Self-Worth
Body image is an emotional, physical, and mental stressor that affects many. It is a difficult concept to grasp because the ideal body image construct is continually changing. This can be harmful to one's self-worth and can bring about many mental barriers to being positive about their body. Self-worth is important because it allows for your personal view of yourself to be more powerful. Having self-worth allows you to deem yourself as valuable without correlating it to your body image or any other external factors.

Ways to increase Self-Worth:
Eliminate Self Criticism
Learn to Accept Compliments
Introduce Self-Compassion
Build Positive Relationships
Remember that Everyone makes Mistakes
Stop Comparing Yourself to Others
It doesn't matter what your job is; what matters is that you do it well and it fulfills you
It doesn't matter what social media followers thinks of you; their opinions have no impact or value
You are not too old or too young for anything
Celebrate the small stuff

Self-Love
Self-love allows for openness and reduces barriers that may stop someone from reaching out for help. By loving ourselves we can set healthy boundaries and make healthy choices for ourselves. The way we feel about ourselves impacts daily interactions with others and ourselves. The decisions that come from not loving oneself may result in negative or harmful outcomes that may make someone feel bad about themselves or in turn projecting this negative thought pattern onto others. It is important to give yourself self-compassion to develop acceptance of yourself and that who you are is the perfect you. By increasing self-love within yourself, you are promoting greater happiness, increased motivation, better physical and mental health, and better life challenges.

Ways to Increase Self-Love:
Acknowledge and Reframe Body-Hating Thoughts
Don't worry about other's opinions
Remember your value does not lie in your looks
Trust yourself to make good decisions
Let go of toxic people
Remember to take care of your health
Increase positive self-talk
Put yourself first
Remember to practice self-care regularly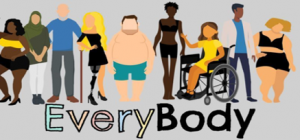 Body Positivity enhances the personal development within everyone. It is best to not compare your life to someone else because everyone's path is different, and that does not mean one is better than the other. Three factors talked about that contribute to body positivity are self-confidence, self-worth, and self-love, and each of these are going to take work and effort to continually maintain. Encouraging internal positivity about your body can lead to a happier and more comfortable lifestyle that is tailored specifically for you. Body Positivity is also about spreading good energy to others in addition to yourself. A simple compliment to a stranger can make a world of difference to how they view themselves. Promotion of positive body behaviors can promote happiness and love from one person to the next.
–
This blog post was written by Asia, an intern with Immunize Nevada.
–
Resources
The Importance of Self-Worth
13 Habits to Achieving Total Self-Love
How to Practice Body Neutrality
What is Body Positivity?